It's dislike at first sight—or first email—for two girls who are accepted into the Disney College Program and get assigned as roommates.
Dana has worked hard, and she sees this opportunity with a Fortune 500 company as her first step toward becoming a successful businesswoman. In contrast, Ashlee is a Georgia peach who's led a sheltered life that has left her shallow, vapid, and ignorant—or so Dana thinks.
Ashlee's dream of becoming a princess is about to come true! She's been preparing all her life, dancing since she was three, and she plans to use this chance to boost her performing career. On the other hand, Dana is cynical, even if she is kind of pretty…. But what's up with the whole trans thing?
Can enemies become friends and then more as each girl gradually sees what's beneath the surface?
Available at a variety of retailers.
---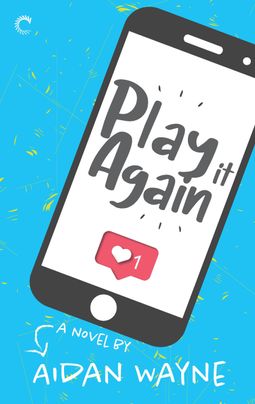 The videos are fun.
But it's the host who has him coming back for more…
When Seattle-based blind YouTuber Dovid Rosenstein finds Sam Doyle's Let's Play channel, playitagainsam, he's instantly captivated by the Irish gamer. Everything about Sam is adorable, from his accent to his personality, and Dovid can't get enough of his content.
Dovid's glowing shout-out on Don't Look Now, his own successful channel, sends Sam's subscriber numbers skyrocketing overnight. He has more comments than he can read. And while the sudden surge in popularity is anxiety inducing, Sam decides it's only right to dedicate his next episode to Dovid…which soon leads to a heart-pounding exchange of DMs.
They may have never met in person, but Dovid's never felt this close to anyone before. What they have feels worth exploring—no matter the distance. But is it possible to already be in love with someone who's half a world away?
Available at a variety of retailers.
---
Darren is your average half-human, half-fae trans teenager, busy figuring out his powers and puberty while trying to survive finals. When Vlad, a newly turned vampire, moves in with the witch down the street, he and Darren get off on the wrong foot. Darren is always one to give somebody a second chance, though, and as they become friends, he realizes Vlad is just lonely and struggling with his new powers. That's something Darren can definitely relate to, and he's happy to lend his support. But while he coaxes Vlad out of his shell, Darren ends up learning about Vlad's past… and the danger Vlad is in. Darren only wants to help—help Vlad feel comfortable in his own skin and help him feel safe.
He hadn't planned on falling in love.
Available at a variety of retailers.